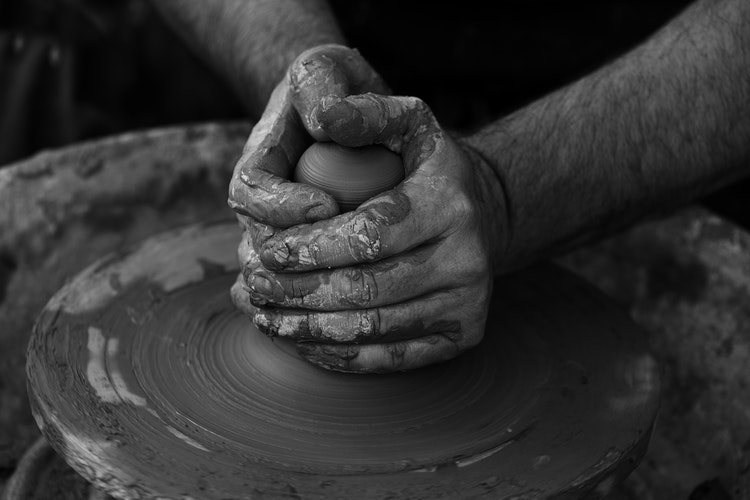 In the Hands of the Potter
After leaving O'Hara's Bakery in the mid-nineties, I found employment working for Rentokil Initial. There I spent a happy seven years travelling around Northern Ireland working as a service Technician.
One of the companies that I called with on a regular basis was Ulster Ceramics located in the Springtown Industrial Estate in Londonderry. I called there every six weeks to service sanitising units in the gent's toilets situated at the back of the factory.
I remember walking through the factory to get to the toilets was no easy task. It was a noisy, dusty and very muddy environment with plenty of wet clay left on the work floor as the potters toiled away in not very pleasant working conditions creating their masterpieces.
Often I entered the factory clean and tidy and left with my shoes and trousers covered in wet clay, much to my irritation especially as it was so hard to clean!
Right beside this messy factory was another building, the Gift Shop. In contrast the shop was warm, clean, bright and modern. In the front shop window on display were the most impressive and beautiful ceramic pieces you could have wished to see.
Certainly there was always a passing trade of customers, often in tour buses purchasing these products. Welcomed by clean, tidy and smiling shop assistants happy to sell the products that were made in the not so glamorous factory next door.
Such a contrast in working conditions, but I often thought of those potters grating inside the factory, what they were able to produce with lumps of clay and their finished work that was so appealing to potential customers to purchase.
There is a similar story in the Bible, where the prophet Jeremiah observed a potter at work. He noticed him fashioning a vessel of clay that had become flawed in his hands.
Maybe it was too hard or too soft, but the texture just wasn't right, so the potter set it aside and later picked it up again and used it for another piece of work that when finished he was pleased with.
In this prophetic story, it's clear to see that God represents the potter and human beings represent the clay. It is right and proper to say that we are all flawed individuals and everyone has some weakness that they struggle with, certainly nobody is perfect!
The wonderful thing is that today God, our heavenly 'potter' would love the opportunity to work upon those flawed areas of our lives. The song says "Heartaches, broken pieces, ruined lives are why you died on Calvary."
God loves each us enough, to want to work in and through each one of us, to take our lives and put them upon His potter's wheel of circumstances and shape us into vessels of honour. Rest assured that this heavenly potter certainly is to be recommended and when we place our lives in his hands, he does a great finishing job!