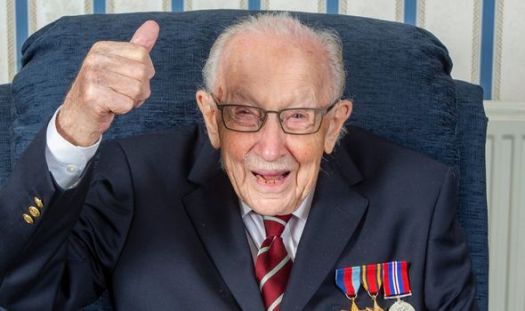 Upward Promotion
Arise Sir Tom! One of the most newsworthy stories that has caught our attention during the coronavirus pandemic has been the remarkable fundraising efforts of Captain Tom Moore on behalf of the NHS.On 6th April at the age of 99, his goal was to walk the length of his 25-metre garden 100 times, hoping to raise £1,000 by his hundredth birthday.
It really caught people's imagination and generated much interest, so much so that on the morning of his one hundredth birthday, the total raised by his walk had passed £30 million and by the time the campaign closed at the end of the day, it had increased to over 32.79 million. Captain Tom also went on to record a cover version of "You'll Never Walk Alone" with singer Michael Ball, which went to No1 in the charts and made him the oldest artist to have a chart-topping record in the UK.
To mark the occasion of his birthday and in recognition of his fund-raising efforts, Captain Tom Moore was promoted to an honorary Colonel and it has just been announced that he will now receive a knighthood from Her Majesty the Queen! I do not think that anyone would begrudge him his promotion!
During a conversation with my good friend Alan Briers a few weeks ago, the word 'promotion' came up and Alan said something that caught my attention. He mentioned to me that 'promotion always points upwards' and that is so true, whether it's the advancement of an employee within a company as a reward for good performance or a football teams success on the pitch over a long season that has seen them winning more points than their nearest challengers, earning them the right to participate in a 'higher league' the following season.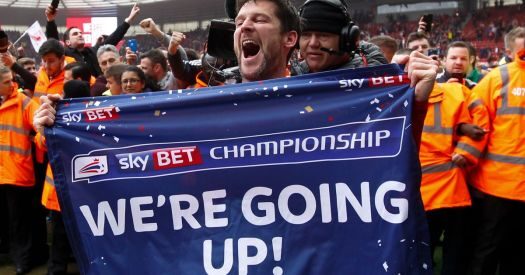 Yes, promotion points upwards as far as earthly achievements goes, but what does it say to us spiritually?In the Bible, Psalm Ch 75 v6-7 records these words "For exaltation (promotion) comes neither from the east nor from the west nor from the south, but God is the judge: he puts down one and exalts another."
William Macdonald in his Bible Believer's Commentary, regarding these verses says that "This type of promotion does not come from any human or earthly source but from God alone. He is the supreme ruler, abasing one and exalting another."
It is indeed nice to gain man's recognition and approval as in the case of Tom Moore, being promoted from captain to colonel and receiving a knighthood from our ruling Monarch. It's something that he will never forget in the remaining time of his life upon this earth.
But there is a higher promotion again that not only points upward but also looks forward and will outlive time upon this earth and outlasts any recognition we may be given while we are here. It is an eternity spent in Heaven that the Lord Jesus Christ has made a way possible through his death, burial and resurrection. All we need to do is trust in him and invite him into our hearts to become our Saviour and Lord.

My Dad passed away back on the 7th August 2015. He was 77 years old and had served the Lord from his teenage years. At the bottom of his headstone covered with flowers are the words "Promoted to Glory."
As I stood there a few days ago, after taking a funeral at a nearby grave, I was reminded that that has been my Dad's experience and his reward for a life spent serving the King of Kings. He has received his 'Upward Promotion' having made the necessary preparations while here upon this earth, I wonder have you?