Everyone is Welcome
The Welcome Evangelical Church hosts a full range of services for our members, guests, and visitors. Our doors are open to all and we truly mean that 'everyone is welcome'!
Please find information on the events and church life at Welcome Evangelical below. Feel free to contact us if you have any questions. You can also view an interactive map to help you find our meeting hall in Cambrai Street, Belfast.
SUNDAY WORSHIP
A warm welcome awaits you at our Sunday morning service which begins at 11.30am and finishes at 12.30pm.
Teaching Tuesday
Our Bible study and prayer meeting happens each Tuesday evening between 7.30-9.00pm.
SENIOR CITIZENS
The senior citizens of Welcome Evangelical meet every Wednesday morning at 10.30-12.00pm.
HOUR OF
PRAYER
Join with us every Thursday morning between 11.00-12.00am to share our prayers with the Almighty.
SUNDAY Evening Service
You are invited to our Sunday evening service from 7pm to 8pm. On the first Sunday of the month we have Reach Out at the Welcome testimony night.
Thrive Youth Club
Takes place on Tuesday nights from 6.30-7.45pm for school year 8-12. There is games, icebreakers, tuck and a short talk.
Friday Night Club
The Friday Night Youth Club opens its doors from 6.30-7.30pm for Juniors (4 to 9 years) then 7.45-9pm for Seniors (9+ years).
Want to get involved? You're WELCOME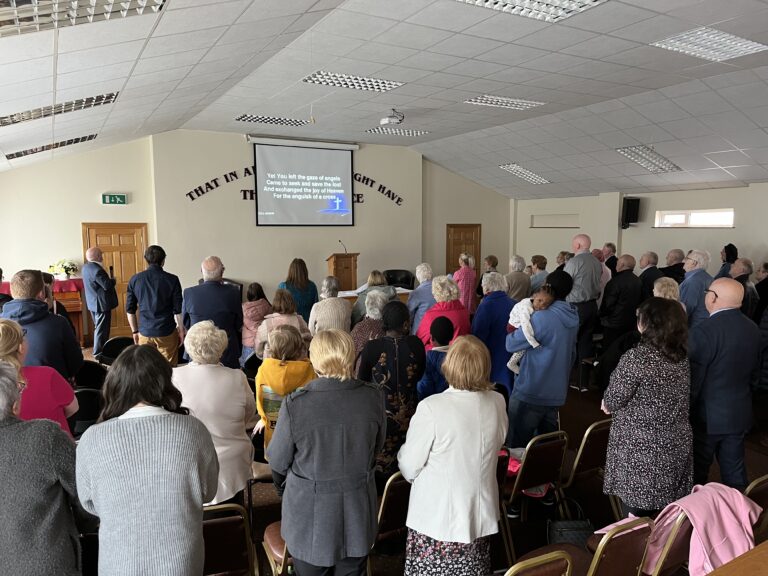 Sunday Morning Worship
Our Sunday morning worship services are just that- a time to worship our Creator who sent His Son to redeem us.
Everyone is welcome to join us and if you have any special requirements, please contact us beforehand so that we can accommodate your needs.
All of our Sunday morning worship services are broadcast LIVE on Facebook and YouTube. Please click the links to join our online congregation.
Sunday Evening
On Sunday Evenings we gather to sing songs to praise God and to listen to the good news about Jesus. You are invited to come along and hear what God has done in our lives and what He can do for you.
The first Sunday of the month is our special Reach Out at the Welcome service. We enjoy some food, fellowship and hear the testimony of an invited guest.
Feel free to come along and join with us at 7pm.